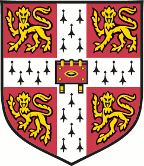 Current Studentships in the Sainsbury Laboratory, Wellcome Trust - Medical Research Council Cambridge Stem Cell Institute, Department of Psychology, Cancer Research UK Cambridge Institute, MRC Epidemiology Unit, MRC Cancer Unit, Division of Stem Cell Neurobiology, C.I.M.R. Division of Translational Medicine or the MRC Biostatistics Unit at the University of Cambridge.
Updated: 13 min 51 sec ago
This is a unique opportunity for PhD study in the world-leading Cancer Research UK Cambridge Institute (CRUK CI), to start a research career in an environment committed to training outstanding cancer research scientists of the future. The Institute has excellent state-of-the-art facilities and research ranges from basic cancer biology and computational biology through to translational research and clinical application.
Graduate students play a pivotal role in the continuing success of our research programmes. If you are interested in contributing to our success, please find further information at: https://www.cruk.cam.ac.uk/jobs-and-studentships/postgraduate-study
Dr Clare Rebbeck wishes to recruit a student to work on the project entitled: Using DCIS to predict Invasive Breast Cancer
For further information about the research group, including their most recent publications, please visit their websites: https://www.cruk.cam.ac.uk/research-groups/hannon-group http://www.hannonlab.org/clare-rebbeck/
Project description:
Ductal carcinoma in situ (DCIS) is an expansion of cells contained within the mammary duct. In itself it is not considered a risk, however, some DCIS patients will ultimately develop invasive breast cancer as a progression of their DCIS. Epidemiological studies have shown that this does not happen in every case and many women live without ever knowing they have DCIS. Under the principle of early detection, women now undergo routine mammography's which will readily detect regions of DCIS. In an attempt to minimise the incidence of invasive disease, women diagnosed with DCIS will be treated with surgery and often radiation. The number of women receiving this treatment has increased over the years, yet there has not been a reflective decrease in the number of women diagnosed with invasive breast cancer. This would suggest that many women are being unnecessarily treated. With prior funding we have carried out a large scale sequencing project looking at DCIS and early invasive disease. We have identified genes which appear to be associated with DCIS progressing to invasive disease. We are now working with a new cohort of samples and are focused on validating these markers of progression.
The successful applicant will develop the pipeline for validations, using a combination of RNAscope, imaging mass cytometry and IHC. They will gain experience handling human tissue samples and analysis of the data output. They will also have the opportunity to develop ideas within the scope of this project.
Further reading can be found on the document below.
Qualifications/skills:
This project is ideal for students who wish to learn the latest in experimental tissue analysis and computational techniques. They will benefit from being part of an active group developing cutting edge technology and thrive in an environment tackling exciting biological questions. A strong background in molecular biology or computational methods is required.
Funding:
This project is funded by a Cancer Research UK studentship that includes funding for University and College fees and a stipend of £19,000 per annum for 4 years.
Fixed-term: The funds for this post are available for 4 years in the first instance.
Eligibility:
Only Home/UK students are eligible to apply for this studentship. Applications are invited from recent graduates or final year undergraduates who hold or expect to gain a first/upper second class degree (or equivalent) in a relevant subject from any recognised university worldwide. Applicants with relevant research experience, gained through Masters study or while working in a laboratory are strongly encouraged to apply. The successful applicant may be able to commence study in January 2022, subject to gaining an unconditional acceptance for study from the University of Cambridge.
How to apply:
Please apply using the University Applicant Portal. For further information about the course and to access the applicant portal, go to: https://www.graduate.study.cam.ac.uk/courses/directory/cvcrpdmsc
To complete your on-line application, you need to provide the following:
Reference Request: The names and contact details of two academic referees who have agreed to act on your behalf.
Course Specific Question: Your statement of interest (limit of 2,500 characters) should explain why you wish to be considered for the studentship and which qualities and experience you will bring to the role. Please also state how you learned of the studentship.
Supporting Document: Please upload your CV (PDF file), which should include a list of the examinations taken at undergraduate level and if possible, your examination results
Deadline:
The closing date for applications is 27 September 2021, with interviews expected to take place shortly after this date.
Please quote reference SW27781 on your application and in any correspondence about this vacancy.
The University actively supports equality, diversity and inclusion and encourages applications from all sections of society.
The University has a responsibility to ensure that all employees are eligible to live and work in the UK.