The Life Sciences Post Graduate Forum (formerly known as GRASP) is an open communication group for all postgraduate students and early-career research staff within the Postgraduate School of Life Sciences (PSLS).
As a collective, we facilitate interdepartmental communication amongst postgraduates (via surveys, forums, events, etc.) to help the PSLS function as a whole. Core committee members of the group consult with and feedback to the Strategic Committee on matters related to academic education, scientific training, transferable skills training and careers training that are of direct relevance to postgraduate students and early career researchers.
---
WHO ARE WE?
The PGF (formerly known as GRASP) was founded in 2011 as a way to bring early career researchers and graduate students from various departments and backgrounds together and coordinate academic activities across all Departments, Institutes and Partner Institutions of the Postgraduate School of Life Sciences (PSLS).
By simply being a postgraduate student within the School of Life Sciences, from plants to medicine, you are a member of our community. But within each department, there should ideally be at least one active PGF representative on the student committee, who can regularly attend our meetings.
We meet at least once a term at a forum where we discuss issues that PSLS researchers face and which social and academic events they want to see organised. In addition, we organise events that bring researchers from different schools and departments together.
HOW ARE WE DIFFERENT TO OTHER STUDENT OR SENIOR SOCIETIES?
The PGF committee interacts directly with the PSLS Strategic committee, to aid in administrative decisions relevant to study and work conditions. For instance, we advise the University on which training events are in demand, or which academic events should be supported more.
HAVE YOUR SAY!
Everyone affiliated with the Postgraduate School of Life Sciences is welcome to join our meetings and volunteer at our events! Throughout the academic year, more information and dates will be circulated by email or by the PGF representative in your department.
You can suggest topics for discussion in person at our forums; or alternatively, please use the anonymous online form to submit any questions or concerns about things you are facing in your department.
---
WHAT IS THE PSLS STRATEGIC COMMITTEE?
The PSLS Strategic Committee is responsible for setting the strategic direction of the Postgraduate School of Life Sciences, ensuring that the PSLS has the visibility and academic standing to be ranked amongst the very best postgraduate schools internationally and that the two contributing Schools (Biological Sciences and Clinical Medicine) have policies, structures, processes and resources in place to effect these aims.
The Strategic Committee is made up of senior academic staff from both Schools who represent the Departments and Partner Institutes, funding programmes and researcher developers and trainers. The President of PGF attends to represent PSLS students and postdocs and ensure that the decisions taken by the Strategic Committee are in the best interests of postgraduate students. The Committee is currently chaired by Professor Matthias Landgraf, Director of Postgraduate Education for the School of Biological Sciences. The Committee meets once per term to discuss all matters relating to postgraduate education in the PSLS, including funding opportunities, training programmes and enhancing our postgraduate programmes.
---
CONTACT US
For further enquiries about PGF, please contact the committee via grasp.cambridge@gmail.com or a member directly.
EXECUTIVE COMMITTEE
President - Avgi Andreou  aa2166@cam.ac.uk
Treasurer - Yunjia Zhang yz533@cam.ac.uk
Outreach coordinator - Alberto Echevarria Poza ae449@cam.ac.uk
---
PAST EVENTS
PGF Rebranding Town Hall - Michaelmas term 2021
After some structural changes GRASP was rebranded as Post Graduate Forum and a virtual Town Hall was held for all representatives. It was a useful meeting to share recent student experiences and raise awareness of how PGF can be a useful platform for discussion. 
Leadership camp - Easter term 2019
GRASP held its first Leadership camp in August, to provide postgraduate students and postdocs in life sciences with a fun and engaging set of 4 leadership activities which put their skills to the test as team leaders and executive members. Three teams of 4-5 members had to follow simple instructions like building a tower and a plane or reproducing a drawing and collecting cubes scattered around the venue with the help of simple materials such as paper and wooden sticks, all with a catch: all members of the team, except for the leader, had to be blindfolded! Each member of the team had a chance to try themselves in the leader's role, and even though all teams demonstrating a good level of team work and completed the activities, only one winner team could take the prize home. As dusk descended and glasses filled with wine, participants reflected on what contributed to their success as team leaders and the challenges that might have hindered their performance. We truly hope that the attendees would take the lessons home to lead and follow mindfully, blindfolded or not.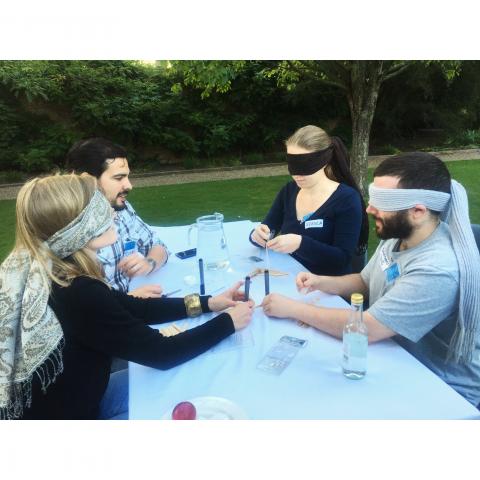 Panel discussion - Michaelmas term 2018
A panel consisting of senior and junior postdocs, a careers office advisor, and a final-year PhD student gave their opinions on the questions asked by PhD students at the start of their course accompanied by nibbles and wine reception.
GRASP brought a variety of junior researchers - from masters and PhD students to postdocs together to have pizza, cake, drinks, and casual networking. Guests were advised to come up with a collaborative project or any common interest with a stranger in 5 minutes, and each guest had a chance to talk to 6 new people followed by free mingling time. By the end of the evening the room full of strangers gradually transformed into a friendly and collaborative environment, and we were encouraged to make Speed Networking a recurrent GRASP event!